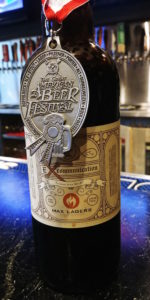 Presented by the Brewers Association, the Great American Beer Festival (GABF) is the largest commercial beer competition in the world and recognizes the most outstanding beers produced in the United States.
This past weekend, Max Lager's Wood-Fired Grill & Brewery received a silver medal in the Fruited Wood and Barrel-Aged Sour Beer category at the 2017 GABF competition for its BA Excommunication.
The BA Excommunication is a style of BA Flanders Red Ale. Max Lager's award winning Flanders Red Ale begins and ends with barrel-aged magic. A Belgian Red ale undergoes mixed fermentation in our Solera Barrel program to produce a tart, yet full bodied base beer. From there it is aged on cherries and mission figs before being rested in aged rum barrels. Notes of vanilla and toffee accentuate a complex, tart finished beer seldom found outside the barrel rooms of Belgium.