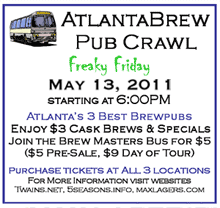 May 13th, 2011 6:00PM
Atlanta's 3 Best Independent Brewpubs team up to offer our annual "Freaky Friday Atlanta Brew Pub Crawl 2011"
Enjoy $3 Cask Brews & Specials
Join the Brew Masters Bus for $5
($5 Pre-Sale, $9 Day of Tour)
Purchase tickets at any of the Brewpubs or online at our Max Merchants store.
For More Information, visit any of the 3 websites
Click below for direct links!
(404)373-0063
(404) 875-3232
(404) 525-4400
We are giving away tickets. Play along on Twitter for your chance to win.
Wed, May 5th:
What is the oldest written text to man? Answer by 5pm to get ur tixs to the Freaky Friday Pub Crawl.