John Roberts (JR), Brew Master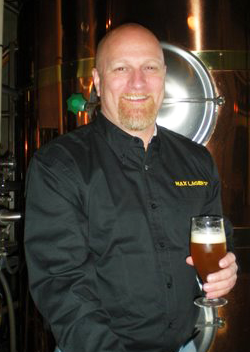 John Roberts (JR) is an award-winning brewer, and a partner in Max Lager's Wood-Fired Grill & Brewery.  JR has been actively brewing beer for over 20 years.  JR's love of beer making started in Boston with a home brew kit.  He was the brewery manager for a brew-on-premise facility in Boston, Massachusetts, and after moving to Atlanta to start the planning and groundwork for Max Lager's, he became the head brewer of Atlanta Brewing Company in Atlanta, GA, maker of Red Brick Ale.
JR opened Max Lager's with Alan and Cindy LeBlanc in March 1998, and has been the Master Brewer from day one, creating signature beers and great seasonals every year.  He is continually recognized for his outstanding brews by critics from the AJC, Southern Brew News, Atlanta Magazine, Delta Sky Magazine, the renowned beer critic Michael Jackson, and beer connoisseurs from around the world.  Mr. Roberts' beers have won numerous medals in competitions throughout the country, with Max Lager's beers attaining national recognition.   He most recently brought home a Bronze Medal from the Great American Beer Festival in Denver for his IMOS (Imperial Mocha Oatmeal Stout) in the Stout category.  JR creates these flavorful and exclusive Max Lager's recipes and attends to the hand-crafted brewing process with painstaking detail.
He now also brews White Oak White for their sister restaurant, White Oak Kitchen & Cocktails.
JR holds a current  board position with the Georgia Craft Brewer's Guild. He is also a past-President and founding member of the Southeastern Brewers Guild. He hosts the annual Peach State Brew Off, a home brewers competition, numerous times at Max Lager's, and serves as one of the judges.
Mr. Roberts holds a Bachelor's Degree in Music from the Berklee College of Music in Boston, Massachusetts.  He continues to nurture his love of music and music engineering by working in a recording studio regularly with his buddies in Jango Monkey among others.
To contact John email him at john@maxlagers.com or follow his blog.